A message from Patrick- 29th April 2020
Hello Indigo class,
First of all I just want to say thanks to all those who handed in their poems! I have really enjoyed reading them and the winners will be announced later today.
Today I'm hoping that, as we are not able to explore it at school, each of you would be able to post 5 interesting facts about the continent of South America (what is a continent?)!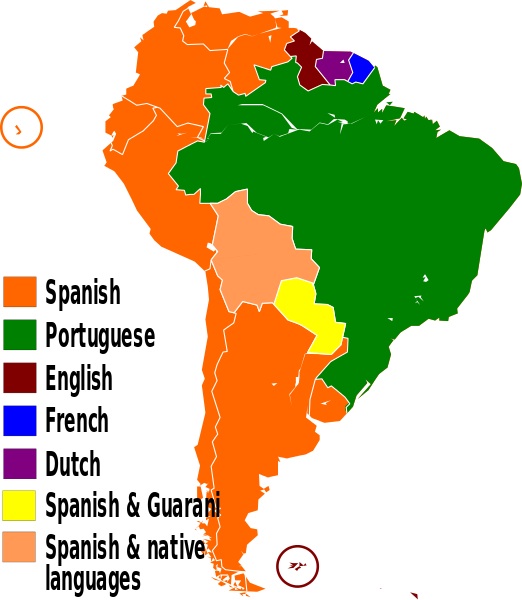 To get us started I'll ask a question based on the map above: what language is spoken in most South American countries?
I would like different facts from all of you so that we can all learn something that is completely new to us. Try using this excellent geography website: https://www.kids-world-travel-guide.com/ .
I hope you have been staying safe and helping your parents out as well as doing the work.
Speak to you soon,
Patrick
EDIT
Here are the animals that Davmie noted in the comments:
From the comments by Davmie (again):
1. The Geoffroy's cat is about the size of a domestic cat.
2. The Geoffroy's cat inhabits the scrubby forest parts (One of them is the Pampas.)
3. The Geoffroy's cat is nocturnal (Night animal) and a solitary (they do not spend time with others from their species) hunter that contacts member of the same species.
From the comments by Davmie and Weda:
The maned wolf lives in southern Brazil, Paraguay, Peru and Bolivia.  Its habitat has lots of long grass so the maned wolf's long legs help it move through the grass and see clearly. It has been described as looking like 'a fox on stilts' (though it actually is not a fox). The eat small animals such as insects, squirrels, rabbits and mammals that are small.
Home learning links:
www.westgreen.haringey.sch.uk/free-books-for-you/
www.westgreen.haringey.sch.uk/home-learning/
www.mymaths.co.uk/
www.ttrockstars.com
www.westgreen.haringey.sch.uk/computing/
www.westgreen.haringey.sch.uk/staying-fit-healthy-and-active/
www.westgreen.haringey.sch.uk/year-5-and-6/
Previous blog posts: